DOES LEAF FILTER WORK?
Leaf Filter is one of the biggest name brands in the gutter industry. They specialize in gutter guards/gutter covers that install directly to the tops of existing gutters. Moreover Leaf Filter are designed to filter out all debris including smaller particles like shingle grit or dirt.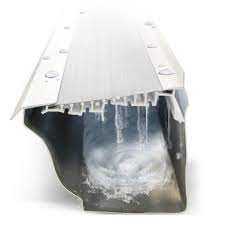 Some of the most researched topics relating to gutters are "Does Leaf Filter Work" or "Is Leaf Filter Worth The Price". Therefore we had to Ask My Gutter Doctor to chime in on this controversial subject!
MICRO MESH GUTTER COVER
 
Leaf Filter covers are different than most normal gutter guards because they feature a two part system.  Whereas most typical gutter guards are one solid piece.  This style of gutter covers that feature a separate screen and frame are called  Micro Mesh Gutter Covers.  One part is a fine mesh screen and the other part is a rigid frame that mounts to the gutter and supports the screen.
WHY IS LEAF FILTER SO POPULAR
If you have ever searched for anything related to gutters online than you have more than likely seen advertisements for Leaf Filter gutter covers. That is because they are one of the largest spenders on advertisement in the gutter industry.  From sponsored ads on Google,  Facebook, Instagram, Angi's List, to Valpak Monthly Coupon Mailers and everything in between, Leaf Filter spends millions of dollars every year on advertising.
PRO'S OF LEAF FILTER GUTTER COVERS
EFFECTIVE AGAINST SMALL DEBRIS – 
Arguably Leaf Filters top selling point is their effectiveness against small debris.  They claim the system filters out shingle grit, dirt, pollen, and pine needles while only allowing water to enter the system.
No debris is able to enter through the micro mesh screens to form clogs.
The two part system features a rigid frame that holds the screens in position.
Both the surgical grade stainless steel and the uPVC frame are both made from materials that will never rust.
LIFETIME TRANSFERRABLE WARRANTY –
They offer a lifetime transferrable warranty with the purchase of their product.
CON'S OF LEAF FILTER GUTTER COVERS
Leaf Filter is one of the most expensive brands of leaf protection on the market. If not the most expensive then they guaranteed in the top three. (Excluding copper gutter products.) On average Leaf Filter gutter covers come in between double to quadruple the cost of average gutter cover systems.  In fact, they are so expensive that they even offer financing through their financial department. Prices come in at about the $30 to $35 per foot range.
NOT EFFECTIVE IN HEAVY RAINS –
The micro mesh screens are not efficient in heavy rains or storm situations. As a result the water flows over the gutters and down the home's exterior walls and to the home's foundation.  Thus eliminating the purpose of having gutters in the first place.
SCREENS STOP WORKING ONCE DIRTY –
Once leaves decompose and break down on tops of the mesh screens they are ruined. The oils from the decaying material causes water to sheen directly over the gutters like a waterfall instead of going into the gutter system as designed.  The only solution for this is to have the mesh screens removed manually from the gutter covers and pressure washed. Then re-installed back into the frames.  This is very labor intensive and not offered by most gutter companies. And it is most certainly not covered within their warranty.
NOT COMPATABLE WITH SOME DRIP EDGE/FLASHING –
In some situations the home's existing drip edge flashing is not compatible with the Leaf Filter design. As a result water is able to go behind the gutters and damage the fascia board or roofing eave.
With Leaf Filter there is no option to simply fill out an estimate request form and receive a quote by email. They keep their prices hidden so that you have to get on the phone and speak with a salesperson for a quote.  Another benefit of this is so that they are able to charge different customers different prices depending on their negotiation skills.
ACTUAL INSTALLATION IS SUB-CONTRACTED OUT –
Depending on how close you live to one of their actual physical locations will determine if your installation project is completed by one a Leaf Filter technician or sub-contracted out to the lowest bidder.
AGGRESSIVE SALES PITCH / MULTIPLE QUOTES –
If you've reached out to Leaf Filter for a quote than you are probably already aware of the aggressive sales tactics including multiple phone calls with different offers.  Once you enter your contact information into their estimate form you better be prepared for an aggressive salesperson to contact you to schedule an estimate visit. With modern technology gutter companies are able to use online images to come up with the home's measurements. That way a quote is able to be provided without having to visit the property. Unfortunately that is not the case with Leaf Filter. They insist on sending an estimator/sales person to your home to gather the measurements.
It's no secrete that Leaf Filter are not so efficient during the winter. Ice dams are one of the most common complaints of Leaf Filter owners. If you live in an area that does receive snowfall every winter than you may want to research a little further into Leaf Filter and Ice Dams.
CONCLUSION
From the time the estimator/salesperson visits your home to the last phone call from their office, Leaf Filter will send you multiple estimates that drop in price.  They start as high as possible and slowly knock the price down in each quote. In addition each of these quotes also comes with a phone call from a different representative.   Your ability to negotiate will determine your cost with Leaf Filter. If you are not skilled in the art of haggling then you will get eaten alive by the sales team.
Being able to spend millions of dollars per year on advertising comes from making substantial profits off of the products that they sell.  Standard gutter covers come in from $7-$10 per linear foot installed. Whereas Leaf Filter average out to about $25-$30 per foot installed.
WHAT GUTTER COVERS DOES MY GUTTER DOCTOR SUGGEST?
We offer a variety of styles of gutter guards here at My Gutter Doctor. However, in most situations we suggest perforated aluminum gutter covers as they  perform the best in every way.
Perforated Aluminum Gutter Covers are the current industry standard for leaf protection.  Affordability, durability, and efficiency are three of the top reasons why these stand out above the competition.  They allow more water into the system then Leaf Filter, and are more durable. But most important of all is that these are about 1/3 the cost.  To learn more about Perforated Aluminum Gutter Covers please visit our Gutter Guard page.
---
CHECK OUT OTHER ARTICLES BY MY GUTTER DOCTOR
Gutters Leaking From Behind by My Gutter Doctor
Bees In Fascia Boards by My Gutter Doctor
Gutter Replacement by My Gutter Doctor
Does Flex Seal Work For Sealing Gutter Seams by My Gutter Doctor
Box Miters by My Gutter Doctor
Is Spring Gutter Cleaning Necessary by My Gutter Doctor
Fascia Board Repair by My Gutter Doctor
When to Clean Gutters In Fall by My Gutter Doctor
Gutter Corners by My Gutter Doctor
Fascia Board Replacement by My Gutter Doctor
Gutter Drip by My Gutter Doctor
Gutters Leaking At Seams by My Gutter Doctor
Loose Gutter Spikes by My Gutter Doctor
Vinyl Gutter Screen : Product Review by My Gutter Doctor
Downspout Clog Prevention by My Gutter Doctor
Fascia Board by My Gutter Doctor
---
NOW ON INSTAGRAM AND FACEBOOK
To check out high definition photos of our work please visit our  INSTAGRAM or FACEBOOK pages. Unfortunately today's web page load speeds have not caught up with the size of high resolution images.  After more than a couple photos on one page the page begins to load too slow.
Therefore we started uploading our recent job photos to Instagram and Facebook since they are both great resources. They both offer infinite photo storage with no loss of image quality.
Feel free to give us a follow on either app to keep an eye out for coupons and promotional offers.
CLICK HERE to check out our reviews on Google or to leave us a review.
---
CHECK OUT WHAT OTHER EXPERTS ARE ALSO SAYING
Does Leaf Filter Gutter Guard Work? by The Money Pit
LeafFilter Review by Architectural Digest
LeafFilter: Reviews, Services and Costs by Market Watch
Is Leaf Filter Worth The Cost? By Angi's List